(බිමල් ශ්‍යාමන් ජයසිංහ)
---
කාන්තා හා ළමා සංවර්ධන පෙර පාසල්, ප්‍රාථමික අධ්‍යාපන පාසල් යටිතල පහසුකම් හා අධ්‍යාපන සේවා රාජ්‍ය අමාත්‍ය පියල් නිශාන්ත මහතාට, බිරිඳට‍ සහ දරුවාට ද  කොරෝනා වයිරසය ආසාදිත වී ඇති බවට අද(18) තහවුරු වූ බව කළුතර සෞඛ්‍ය විද්‍යාතනයේ ප්‍රකාශකයෙක් පැවසීය.

කළුතර දිස්ත්‍රික් ලේකම් කාර්යාලයේ සහකාර අධ්‍යක්ෂකවරයෙකුට  කොරෝනා ආසාදනයවීම  හේතුවෙන්  අද එම සැලසුම් අංශය තාවකාලිකව වසා එම සහකාර  අධ්‍යක්ෂකවරයා සමඟ සමීපව කටයුතු කළ පුද්ගලයන්  40 කට ආසන්න  සංඛ්‍යාවකට පී. සී. ආර්. පරීක්ෂණ කළ බව එම කාර්යාල ආරංචි මාර්ග සඳහන් කරයි.

ඉකුත් 15 වෙනිදා  විශාල පිරිසකගේ සහභාගිත්වයෙන්  කළුතර දිස්ත්‍රික් ලේකම් කාර්යාලයේ කමිටු රැස්වීමක් පවත්වා ඇති අතර  එයට රාජ්‍ය අමාත්‍ය පියල්  නිශාන්ත මහතා   ඇතුළු  දේශපාලනඥයන් ගණනාවක්  මෙන්ම රාජ්‍ය නිලධාරීන් රැසක් ද සහභාගි වී ඇත.

එම කමිටු රැස්වීම පැවැත්වෙන අවස්ථාවේදී රාජ්‍ය අමාත්‍යවරයා සහකාර  අධ්‍යක්ෂකවරයා අසලම  පුටුවක වාඩි වී සිට ඇතැයි  එම  ආරංචි  මාර්ග වැඩිදුර සඳහන් කරයි.

රාජ්‍ය අමාත්‍ය පියල් නිශාන්ත මහතා බිරිඳ හා දරුවා  කොග්ගල ප්‍රතිකාර මධ්‍යස්ථානයක් වෙත යොමු කිරීමට නියමිතය.
http://www.lankadeepa.lk/latest_news/%E0%B6%BB%E0%B7%8F%E0%B6%A2%E0%B7%8A%E2%80%8D%E0%B6%BA-%E0%B6%85%E0%B6%B8%E0%B7%8F%E0%B6%AD%E0%B7%8A%E2%80%8D%E0%B6%BA-%E0%B6%B4%E0%B7%92%E0%B6%BA%E0%B6%BD%E0%B7%8A-%E0%B6%B1%E0%B7%92%E0%B7%81%E0%B7%8F%E0%B6%B1%E0%B7%8A%E0%B6%AD%E0%B6%A7-%E0%B6%9A%E0%B7%9C%E0%B6%BB%E0%B7%9D%E0%B6%B1%E0%B7%8F/1-584820
Women and Child Development State Minister Piyal Nishantha tested COVID-19 positive, the State Minister confirmed.
Publishing a post on his official Facebook page, the State Minister said he has been infected with the virus and added that he would follow the instructions given by the health authorities.
"I also request those who came into contact with me in last few days, to take necessary steps and precaution as per the guideline given by health officials," he said in the post.
He was confirmed to have been infected with the virus following a rapid antigen test.
Piyal Nishantha was also seen in the occasion held on January 14 to declare open Southeast Asia's largest tyre manufacturing facility at Wagawatta in Horana, where President Gotabaya Rajapaksa and several Ministers and State Ministers were present.
Ministers Rohitha Abeygunawardena, Ramesh Pathirana, Mahinda Amaraweera, Wimal Weerawansa, State Minister Kanaka Herath and Defence Secretary, Gen.(Retd) Kamal Gunaratne were also among those present at the opening ceremony.
Meanwhile, State Minister Piyal Nishantha was also one of those parliamentarians who experimented and took a sip of the syrup at the Parliamentary complex on December 10, 2020, and the syrup that claimed to cure COVID-19. (Sheain Fernandopulle)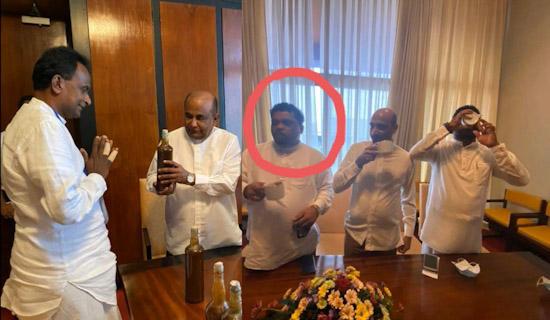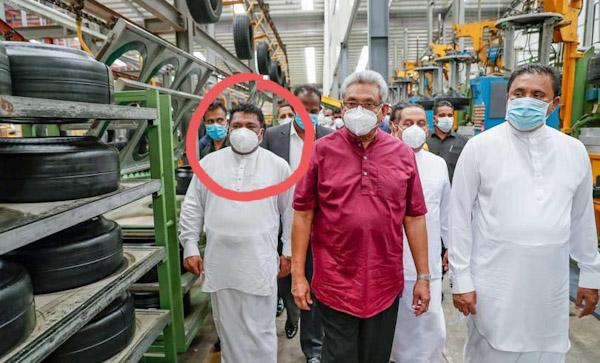 http://www.dailymirror.lk/breaking_news/State-Minister-Piyal-Nishantha-contracts-COVID-19/108-203997