CBK commends Dr. Shafi's noble gesture of donating past salary to buy essential medicine

Falsely accused by racist elements for alleged illegal sterilisation, Kurunegala Teaching Hospital doctor says racism will not take country or organisation forward except make poor people suffer more; calls on all to make Sri Lanka racism-free   Former President Chandrika Bandaranaike Kumaratunga has commended Dr. Mohamed Shafi Shihabdeen over his gesture of donating the past salaries amounting to Rs. 2.6 million during his suspension and imprisonment on false charges to buy essential medicines. Chandrika Bandaranaike Kumaratunga

Dr. Mohamed Shafi Shihabdeen



Following...

Read More...

Dr. Shafi donates arrears of his salary to purchase medicines for hospitals

Dr. Shihabdeen Mohamed Shafi, the doctor at the Kurunegala Teaching Hospital has decided to donate arrears of his salary amounting over Rs. 2.67 million for the purchase of essential medicines for hospitals.

Dr. Shafi who was on compulsory leave on charges of performing infertility surgery, has received a cheque of over Rs. 2.67 million salary arrears from the Health Ministry last week.

The salary arrears include the basic salary, interim allowance, cost of living, and allowance in lieu of pension for the period of compulsory leave imposed on Dr. Sihabdeen.

Dr. Shafi who was employed at the Kurunegala teaching hospital was arrested on May 25th, 2019, on charges of performing infertility surgery.

On July 25, 2019, the Kurunegala Magistrate's Court ordered that the doctor be released on bail.

Read More...

Govt. used Sinhala-Buddhist shield to its maximum benefit Ven. Galkande Dhammananda Thera

This Govt. nurtured thug-like monks promoted them and deployed them in various  places Certain monks have severe psychological wounds If  society isn't healed cases of domestic violence, harassment and child  abuse will be on the rise Reconciliation  was about having workshops, providing a report and earning dollars Accountability  has not been included in the Constitution or the Judicial system Terrorism  sprouts in a country that has no justice Ven. Galkande Dhammananda Thera who currently heads the Walpola Rahula Institute for Buddhist Studies has been addressing issues related to social justice and harmony while promoting an inclusive and plural society. Having gathered a wealth of experience during the height of war for instance and having encountered various incidents during his lifetime, Ven. Dhammananda Thera has...

Read More...

Health ministry to pay back-wages for Dr. Shafi before July 10

The Ministry of Health today gave an undertaking before the Court of Appeal that the salary and allowances payable to Dr. Shafi  Shihabdeen will be paid before July 10 this year. The Ministry of Health gave this undertaking pursuant to a writ petition filed by Dr. Shafi  Shihabdeen, who was at the centre of the controversy surrounding the alleged sterilisation of female patients. The Director General of Establishment at the Ministry of Public Services had earlier informed the Court that the basic salary, interim allowance, cost of living and allowance in lieu of pension could be paid to Dr. Shafi Shihabdeen, for the compulsory leave period. Meanwhile, the petitioner expressed willingness to attend the preliminary inquiry before Director of Kurunegala Teaching Hospital Dr. Chandana Kendangamuwa. Taking into consideration the facts,...

Read More...

Sri Lanka court orders release of lawyer held for two years

A Sri Lankan court has ordered the release on bail of a lawyer arrested over his alleged links to the 2019 Easter Sunday bombings and held for nearly two years on charges rights groups say lacked credible evidence. Hejaaz Hizbullah was arrested in April 2020 and accused of being linked to the

attacks on churches and hotels

that left 279 people dead. But after prosecutors failed to provide evidence of his involvement in the attacks, blamed on a local group, he was instead

Read More...
Counsel for Hejaaz Hizbullah objects to ID parade
Says children lined up to identify suspect have been shown his photograph during questioning
Magistrate uploads objections, fixes 1 July for next hearing
---
Fort Magistrate Ranga Dissanayake yesterday disallowed the Police from presenting detained attorney Hejaaz Hizbullah for an identification parade after counsel for the suspect objected to the move.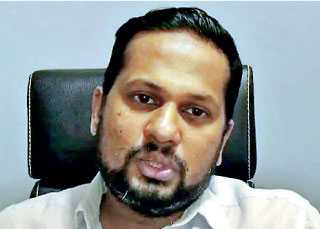 Hejaaz Hizbullah
---
President's Counsel Wasantha Navaratne Bandara, who appeared for Hizbullah, said that the 10 children lined up to identify the suspect have been shown his photograph by the Police when they recorded a statement from them, and hence objected to holding the identification parade.

CID officers who appeared in Court however requested the Magistrate to allow it, but the Magistrate disallowed it and fixed the next hearing for 1 July.

The Magistrate told the CID to present a progress report into their investigations on that day.

Hizbullah is being held under a detention order under the Prevention of Terrorism Act (PTA) since mid-April for alleged links to the Easter Sunday bomb attacks.
http://www.ft.lk/news/Magistrate-disallows-ID-parade-for-detained-lawyer/56-702168?fbclid=IwAR2IEW6lRBLOiJY_ByYQhLbWMFzT8MDMHXo4ZZwdmdzq54ciYZuycth4mHI#.XvRW8eGVHH5.facebook