Sri Lanka has locked up this Muslim lawyer without charge for nearly five months

The prominent Sri Lankan Muslim lawyer, Hejaaz Hizbullah, is being described by human rights groups as the latest victim of Sri Lanka's draconian Prevention of Terrorism Act.

On April 14, Hizbullah, 40, got a call from the Ministry of Health saying they were worried he may have contracted COVID-19 and advised him to remain at home.

A day earlier he and others had written to the Sri Lankan president about his government's decision to ban Muslims from burying their dead, forcing them to cremate their remains instead – a violation of their right to freedom of religion, as protected by Sri Lanka's constitution and its international obligations.

Hejaaz Hizbullah was a lawyer at the Supreme Court and worked as a state counsel for the Attorney General's department. Beyond his legal work, he was involved...

Read More...

Hejaaz Detention: Fort Magistrate Orders CID To Submit All Statements Obtained In Investigations



Following submissions by Defence Counsel that the Criminal Investigations Department is selectively reporting facts to the Magistrate in order to malign Hejaaz Hizbullah, Fort Magistrate today ordered the Criminal Investigations Department to submit a report of all statements obtained by them from persons relating to the investigations of Hizbullah.
When the case was taken up today. Counsel for the Defence informed Court that the Criminal Investigations Department had obtained statements from all persons of the Save the Pearls Charity and the Teachers and Board of Management of the Al-Zuhriya Madarasa.

However, none of those statements had been produced to date.
They said that the statements would reveal that all the allegations made by the CID are a fabrication and were made in order to malign Hizbullah and...

Read More...

Hejaaz Hizbullah: Symptom and symbol

What made him more enigmatic was that unlike most others in his profession who shield their lives beneath a calm facade, he taught exceptionally well Apparently he called the Easter attackers "fools who died as fools." I can picture Hejaaz saying that   There's an image of Hejaaz Hizbullah I return to over and over again. It's an image of him holding a placard at a protest in 2018. The placard reads, "Asilachaara parliamenthuwak wenuwata seelachara parliamenthuwak" ("A cultured parliament in place of an uncultured parliament"). The reason why it resonates with me is that, even in the ecstatic way he holds it, he is quite unlike the Hejaaz Hizbullah I once knew. But then I realise that the Hejaaz I once knew couldn't have been the real guy. 
I first encountered the man in 2013 at my law school. He didn't...

Read More...

Rathana At It Again; ACJU Is The Punching Bag For Everyone

By

Mass L. Usuf

–

Mass Usuf Let this column begin with a Disclaimer. It is only an analysis and the writer is not holding a brief to defend or protect the All Ceylon Jamiyathul Ulema (

Read More...

Democracy Threatened: Impunity, Political Patronage & Rollback Of Devolution

By

S. Ratnajeevan H. Hoole

– R. Sasilan: Assistant Commissioner of Elections Today we are opening new living quarters for our Election Commission's man-in-charge in Batticaloa. I am so glad because R. Sasilan is a man I am proud of. He stands up for what is right without fear or favor. When a minister distributed gifts in elections some years ago, he confiscated a gift pack and filed a complaint with the police. The police, as often happens, disappeared the evidence. Sasilan sent a report to the Commission and that too disappeared....

Read More...

Coronavirus funerals: Sri Lanka's Muslims decry forced cremation

  Image copyrightEPA Image captionSri Lankan Muslim women wait for a Covid-19 test. Some in the community are fighting cremation rules Sri Lankan authorities are insisting on cremation for coronavirus victims - a practice forbidden by Islam. The nation's minority Muslim community says they are using the pandemic to discriminate, writes BBC Sinhala's Saroj Pathirana. On 4 May, Fathima Rinoza, a 44-year-old mother of three from Sri Lanka's minority Muslim population, was admitted to hospital with a suspected case of Covid-19. Fathima, who lived in the Sri Lankan capital, Colombo, had been suffering from respiratory problems and the authorities feared she had caught the virus. On the day she was admitted to hospital, the family was "set upon" by the authorities, her husband Mohamed Shafeek said. "The police and military along with...

Read More...

ජිනීවා මානව හිමිකම් කවුන්සිලයේදී රටවල් 5කින් ලංකාවට චෝදනා

පාස්කු ප්‍රහාර සම්බන්ධයෙන් සැකපිට අත්අඩංගුවට ගෙන සිටින නීතිඥ හිජාස් හිස්බුල්ලා රඳවා තබාගැනීම, විශේෂ බළකායේ සැරයන් සුනිල් රත්නායකට ජනාධිපති සමාව ලබාදීම ඇතුළු කරුණු ගණනාවක් පදනම් කරගනිමින් එක්සත් රාජධානිය ඇතුළු රටවල් 5ක කණ්ඩායමක් එක්සත් ජාතීන්ගේ මානව හිමිකම් කවුන්සිලයේදී ශ්‍රී ලංකාවට චෝදනා එල්ල කර ඇතැයි ජිනීවා තානාපති...

Read More...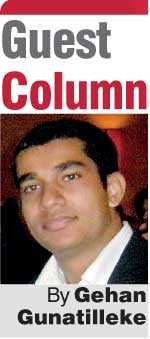 A year has passed since the deadly Easter Sunday attacks in Sri Lanka. Victims, survivors, and the general public still await answers. Amidst these desperate demands for accountability, Hejaaz Hizbullah, a prominent Muslim lawyer, is suddenly – and most unexpectedly – arrested and detained.

I met Hejaaz during the first-ever debating tournament I participated in. He led the team from S. Thomas' College, Mount Lavinia, and I represented St. Joseph's College, Colombo. Our teams made it to the finals that year. I recall Hejaaz as a fierce competitor with the rare gift for conveying an argument with charisma and conviction. He also had a great sense of humour, taking friendly banter in good spirit. The Thomians triumphed that year, and deservedly so.

What strikes me now is that five of the eight young debaters that day went on to become lawyers. We had found our community: the legal fraternity.

A few years later, I encountered Hejaaz again. It was in the first ever case I argued before the Court of Appeal. Hejaaz represented the State, and I represented certain public officers seeking promotions. I recall his keen knowledge of the law, and his outstanding skills in advocacy. But on this occasion, I also encountered another side to him. He was not just interested in winning an argument. I detected in him a deeper commitment to justice. He did not see himself merely as a representative of the State; he saw himself as an officer of justice.


This commitment to justice has defined Hejaaz's legal career. After leaving the Attorney-General's Department, he entered the private bar. He became a tenacious defender and champion of the Sri Lankan Constitution, and an outspoken representative of victims of hate and violence.

Most importantly, he has been a leading voice against violent extremism on all sides. Hejaaz has consistently stood against inter-religious and inter-ethnic hatred and violence in all its forms.

In the days that followed the Easter Sunday attacks, Hejaaz was among the first to publicly condemn the heinous crimes. He called for the rejection of hatred to 'confirm that the attackers are fools who died as fools'. He has since taken an active role in promoting reconciliation and coexistence among communities in Sri Lanka.

In the last few weeks, we have witnessed a cruel irony: a lawyer who stood up against violent extremism is being maligned as an 'extremist' in the 'court' of public opinion. It is unconscionable that an officer of the court is now being deprived of his basic right to be presumed innocent until proven guilty. He is yet to be produced before a judge, and is yet to be given meaningful access to his lawyers.

Even before a judge has had the opportunity to examine Hejaaz (let alone make an order with regard to his case), he is being pronounced 'guilty' through a vicious and prejudicial media narrative against him.

If indeed Hejaaz is on trial by public opinion, let us consider some facts that emerge from his fundamental rights petition before the Supreme Court. These facts are rarely featured in this prejudicial narrative.

Hejaaz has been at the forefront of defending democracy and peace in Sri Lanka. Recall that the country was thrust into a constitutional crisis in October 2018. Hejaaz was the lawyer who represented Election Commissioner Prof. Ratnajeevan Hoole before the Supreme Court in the case concerning the unlawful dissolution of Parliament. He was among the leading lawyers who convinced the Court that the President's actions were unconstitutional. The rest is history. We owe an irreparable debt of gratitude to Hejaaz; his work helped preserve Sri Lanka's fragile constitutional democracy.

Hejaaz has also appeared in scores of court cases concerning Ven. Galagoda Aththe Gnanasara Thera. He is the lawyer in Fundamental Rights applications that deal with alleged hate speech by this Buddhist clergyman, and the 2014 Aluthgama violence. Hejaaz is also the lawyer in a defamation case against Ven. Gnanasara Thera.

When you think of 'Hejaaz Hizbullah, Attorney-at-Law,' do not uncritically accept the picture that is painted of him in the media. Ask yourself if this picture bears any resemblance to what we know of him. He is the lawyer who represented an Election Commissioner in one of the most important cases in our country's constitutional history. He is the lawyer who has fearlessly defended victims of hatred and violence in numerous cases. He is the lawyer who tirelessly stood against violent extremism by confronting powerful and influential people.

Once we put Hejaaz's arrest and detention in its proper context, we begin to see it for what it really is: an indecent assault on one of the legal profession's finest. A crude punishment – not for engaging in extremism, but for working against it. His is not just a case concerning the unjust treatment of an individual with strong political opponents. It is the culmination of a tectonic shift in Sri Lanka: where extremists are pardoned, and voices against extremism are jailed.

Hejaaz Hizbullah is part of a profession that I count myself privileged to be a member of. He is part of the reason I, like many others who encountered him in our youth, decided to join this profession. He is, and always will be, part of the reason many more will join it.
http://www.ft.lk/columns/Hejaaz-A-lawyer-for-all-seasons/4-699988