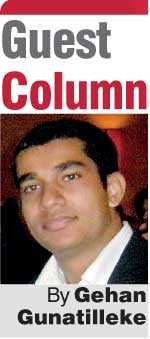 A year has passed since the deadly Easter Sunday attacks in Sri Lanka. Victims, survivors, and the general public still await answers. Amidst these desperate demands for accountability, Hejaaz Hizbullah, a prominent Muslim lawyer, is suddenly – and most unexpectedly – arrested and detained.

I met Hejaaz during the first-ever debating tournament I participated in. He led the team from S. Thomas' College, Mount Lavinia, and I represented St. Joseph's College, Colombo. Our teams made it to the finals that year. I recall Hejaaz as a fierce competitor with the rare gift for conveying an argument with charisma and conviction. He also had a great sense of humour, taking friendly banter in good spirit. The Thomians triumphed that year, and deservedly so.

What strikes me now is that five of the eight young debaters that day went on to become lawyers. We had found our community: the legal fraternity.

A few years later, I encountered Hejaaz again. It was in the first ever case I argued before the Court of Appeal. Hejaaz represented the State, and I represented certain public officers seeking promotions. I recall his keen knowledge of the law, and his outstanding skills in advocacy. But on this occasion, I also encountered another side to him. He was not just interested in winning an argument. I detected in him a deeper commitment to justice. He did not see himself merely as a representative of the State; he saw himself as an officer of justice.


This commitment to justice has defined Hejaaz's legal career. After leaving the Attorney-General's Department, he entered the private bar. He became a tenacious defender and champion of the Sri Lankan Constitution, and an outspoken representative of victims of hate and violence.

Most importantly, he has been a leading voice against violent extremism on all sides. Hejaaz has consistently stood against inter-religious and inter-ethnic hatred and violence in all its forms.

In the days that followed the Easter Sunday attacks, Hejaaz was among the first to publicly condemn the heinous crimes. He called for the rejection of hatred to 'confirm that the attackers are fools who died as fools'. He has since taken an active role in promoting reconciliation and coexistence among communities in Sri Lanka.

In the last few weeks, we have witnessed a cruel irony: a lawyer who stood up against violent extremism is being maligned as an 'extremist' in the 'court' of public opinion. It is unconscionable that an officer of the court is now being deprived of his basic right to be presumed innocent until proven guilty. He is yet to be produced before a judge, and is yet to be given meaningful access to his lawyers.

Even before a judge has had the opportunity to examine Hejaaz (let alone make an order with regard to his case), he is being pronounced 'guilty' through a vicious and prejudicial media narrative against him.

If indeed Hejaaz is on trial by public opinion, let us consider some facts that emerge from his fundamental rights petition before the Supreme Court. These facts are rarely featured in this prejudicial narrative.

Hejaaz has been at the forefront of defending democracy and peace in Sri Lanka. Recall that the country was thrust into a constitutional crisis in October 2018. Hejaaz was the lawyer who represented Election Commissioner Prof. Ratnajeevan Hoole before the Supreme Court in the case concerning the unlawful dissolution of Parliament. He was among the leading lawyers who convinced the Court that the President's actions were unconstitutional. The rest is history. We owe an irreparable debt of gratitude to Hejaaz; his work helped preserve Sri Lanka's fragile constitutional democracy.

Hejaaz has also appeared in scores of court cases concerning Ven. Galagoda Aththe Gnanasara Thera. He is the lawyer in Fundamental Rights applications that deal with alleged hate speech by this Buddhist clergyman, and the 2014 Aluthgama violence. Hejaaz is also the lawyer in a defamation case against Ven. Gnanasara Thera.

When you think of 'Hejaaz Hizbullah, Attorney-at-Law,' do not uncritically accept the picture that is painted of him in the media. Ask yourself if this picture bears any resemblance to what we know of him. He is the lawyer who represented an Election Commissioner in one of the most important cases in our country's constitutional history. He is the lawyer who has fearlessly defended victims of hatred and violence in numerous cases. He is the lawyer who tirelessly stood against violent extremism by confronting powerful and influential people.

Once we put Hejaaz's arrest and detention in its proper context, we begin to see it for what it really is: an indecent assault on one of the legal profession's finest. A crude punishment – not for engaging in extremism, but for working against it. His is not just a case concerning the unjust treatment of an individual with strong political opponents. It is the culmination of a tectonic shift in Sri Lanka: where extremists are pardoned, and voices against extremism are jailed.

Hejaaz Hizbullah is part of a profession that I count myself privileged to be a member of. He is part of the reason I, like many others who encountered him in our youth, decided to join this profession. He is, and always will be, part of the reason many more will join it.
http://www.ft.lk/columns/Hejaaz-A-lawyer-for-all-seasons/4-699988
A group of activists in Sri Lanka has called upon the government for the unconditional release of a Muslim writer who has been held in detention for more than
sixty days without "explicit evidence being produced".

In a letter to the Human Rights Commission of Sri Lanka (HRCSL) the Sinhala, Tamil and Muslim activists say that Ramzy Razeek arrested on April 09 for allegedly violating the International Covenant on Civil and Political Rights (ICCPR) and Cyber Crimes Legislation has also been denied medical treatment and legal access in detention.

"Despite orders from the Magistrate to allow him access to medicine, reliable sources state that his health condition is deteriorating due to lack of access to specific medicines of which he is in dire need. A lawyer attempting to visit Razeek this week, was also denied access at the Colombo Remand Prison, citing the COVID-19 virus," says the letter addressed to HRCSL Chair Deepika Udagama.

Ramzy Razeek, a retired government official was arrested over a post in early April, in which he calls for an 'ideological Jihad (struggle)' against all forms of fundamentalisms and racism persecuting the Sri Lankan Muslims as a community.

Two days later, Razeek had posted again to note that he had received countless death threats as a result of his post, and that many had misconstrued his words, calling for him to be jailed for propagating racist ideas.

The activists' letter highlights that Razeek who has a history of critiquing Muslim fundamentalism and racism in Sri Lanka, very specifically states in his post that he is proposing a struggle of ideas and intellect to question and counter the attacks against progressive Muslims from outside, as well within the Muslim community.

In September 2019 HRCSL had issued a letter to the Sri Lanka Police regarding the lack of legal clarity and discriminate application of the ICCPR Act, and clarifying the legal scope of the offence, including the level of severity that was required for an arrest.

The ICCPR, meant to hold accountable those who incite violence, has since recently been weaponised by the State against those who critique the State and/or its policies, says the letter by activists to HRCSL.

"Those who actively disseminate misinformation, incite ethnic and religious hatred and violence, and engage in cyberbullying, predominantly against ethnic and religious minority communities, continue to enjoy impunity and political patronage. Meanwhile, those who critique this violence, are persecuted for their words."

Local and international rights bodies have repeatedly raised their concern about misusing the ICCPR act. It was used to detain award winning writer Shakthika Sathkumara for more than four months during the last government backed by many civil activists.

Copies of the letter had been sent to opposition leaders of the dissolved parliament as well as UN officials at home and abroad.
https://english.theleader.lk/news/772-muslim-writer-in-jail-for-60-days-without-explicit-evidence?fbclid=IwAR0dxnQEFd0iMeNLD0hhv6sHxT-cZzuoc-bxXf-RnZqEi06h3Tf14GpdQX4