Ardern said the details are still to be worked out but the changes to the country's firearms laws will be announced in full within 10 days [The Office of the Prime Minister of New Zealand via Getty Images]
New Zealand's Prime Minister Jacinda Ardern said on Monday that her cabinet has made an in-principle decision to tighten gun ownership in the aftermath of the Christchurch mosques massacre.
"We have made a decision as a cabinet, we are unified," said Ardern.
The New Zealand prime minister also announced an inquiry into the mass shootings at two mosques in Christchurch on Friday that left 50 people dead.
Ardern said the details are still to be worked out but the changes to the country's firearms laws will be announced in full within 10 days.
She also said that while the man charged with carrying out the shootings was not a New Zealand citizen, it could not ignore the problem of white supremacy supporters within the country.
A Christchurch gun shop on Monday acknowledged selling guns online to the 28-year-old white supremacist accused of killing 50 people in mosque shootings.
Anti-immigrant manifesto
At a news conference, "Gun City" owner David Tipple said the store sold four guns and ammunition to suspect Brenton Harrison Tarrant through a "police-verified online mail-order process".
Ardern has said the attacker used five guns, two of them semi-automatic, which were purchased with an ordinary gun licence and modified.
It was not clear if any of the firearms Tarrant purchased from Gun City were used in Friday's shootings.
"We detected nothing extraordinary about this licence holder," Tipple said, referring to the shooter.
Gun City has been criticised for leaving out a roadside advertising billboard that shows a parent helping children with rifle target practice in the wake of the shootings.
On Monday, Tarrant's lawyer said his client was not mentally unstable and planned to represent himself in the court.
At his first court appearance, Tarrant didn't speak but appeared unrepentant, smirking at journalists and flashing an upside down "okay" sign - a symbol associated with white power groups around the world.
The suspect had posted a muddled, 74-page anti-immigrant manifesto online before the attacks and apparently used a helmet-mounted camera to broadcast live video of the slaughter.
Facebook said it removed 1.5 million videos of the shootings during the first 24 hours after the massacre.
The revelation in a tweet provided a chilling snapshot of how quickly provocative and often disturbing images circulate on the internet.
Delay in burials
The New Zealand prime minister, who has earned praise for the handling of the mass shootings, said her view is that more can "and should" be done to prevent such content from being shared on social media.
Ardern was the first signatory of a national condolence book for the country's worst mass killing that she opened in the capital Wellington on Monday.
"On behalf of all New Zealanders, we grieve together. We are one. They are us," she wrote in the book.
Frustration was building among the families of victims as under Islam it is custom to conduct burials within 24 hours, but bodies will not be released until post-mortems are carried out.
Deputy Police Commissioner Wally Haumaha said the first body was approved for release on Sunday night, but the family was yet to take the body because another relative was also killed and they wanted to collect them together. He said there would be no burials on Monday.
"We've been working fairly hard through the night to ensure the process of returning the deceased to their loved ones is taking place expediently," he said.
The burial process, which usually involves washing with three kinds of water, salving wounds and scrubbing skin, would be complicated, volunteers in Christchurch said.
SOURCE: AL JAZEERA AND NEWS AGENCIES
Christchurch, New Zealand - In a quiet corner of Memorial Park Cemetery, the graves dug out for the dozens of Muslim worshippers murdered in the worst mass shooting in New Zealand's modern history stretch out, row upon row, in every direction.
Around them sit mounds of excavated soil, waiting to fill in the gaping holes carefully carved out of the earth.
Elsewhere, grieving mothers and fathers, sisters and brothers, daughters and sons are waiting, too.
More than 48 hours after a suspected far-right gunman killed at least 50 people during what has been labelled a "terrorist" attack on two Christchurch mosques, the relatives of those missing and presumed dead are racked by anguish, desperate to lay their loved ones to rest.
"I haven't slept for two days," 31-year-old Farhana Akhter says outside a makeshift victim support centre in Christchurch, a city that is home to a few thousand Muslims.
"I can't eat or drink; I need to see my aunt's body as soon as possible … so we can have relief."
Farhana Akhter and Nusrat Alam say they have been informed by authorities that their aunt, Husna Ahmed, was killed in Friday's attack [David Child/Al Jazeera]
White-supremacist attack
Akhter's relative, Husna Ahmed, was among the more than 40 people shot dead on Friday at the Al Noor mosque in central Christchurch - one of the two places of worship that came under attack, the other being Linwood mosque, some seven kilometres away.
A 28-year-old Australian man, identified as Brenton Harrison Tarrant, has been charged with one count of murder, with many more expected.
In his own words, published in a rambling, racist and overtly white-supremacist online manifesto minutes before the attack, the suspect said he had decided "to commit to violence" against non-whites and immigrants, arguing they were destroying societal cohesion.
Husna, 45, was attending Friday prayers, as usual, when the gunman armed with semiautomatic rifles and high-capacity magazines stormed Al Noor mosque and opened fire indiscriminately on everyone inside.
"My auntie, she was ushering all the ladies out to make sure they all got out," says 19-year-old Nusrat Alam, another niece of Husna's.
"She came back in, to look for my uncle, who is disabled, and that's when she was shot by the gunman," she adds.
"It's a very big step to see the body. A lot of other people are frustrated like us too."
Authorities pledge speed, sensitivity
Authorities in New Zealand have not made official public statements naming the victims, but have pledged to move as swiftly as possible in returning bodies to the victims' families, while stressing the need for accurate identification and evidence gathering first.
New Zealand Prime Minister Jacinda Ardern said some bodies would be returned to victims' families on Sunday evening and expressed hope that all of those killed would be with their relatives again by Wednesday at the latest.
Ardern's comments came after Mike Bush, New Zealand's police chief, said officials were "aware of the cultural and religious needs" of Muslim victims, identifying and releasing bodies as "quickly and sensitively as possible".
Muslims are customarily buried within 24 hours of death. Before their burial, the bodies are washed and wrapped in a white shroud so that funeral prayers can be conducted.
The delay enforced in the aftermath of Friday's tragedy is deeply traumatising, but understandable given the scale of the attack, says 44-year-old Waleed Washsh on the outskirts of a public vigil at the Al Noor mosque.
"It is still difficult for a lot of people not to be able to see their loved ones and the dead bodies, even just to get reassurance that they have passed away," adds Washsh, who lost three friends in the attack.
"But we have a lot of confidence that the government and their agencies are doing their absolute best and they are working around the clock to get those names identified."
'A beautiful soul'
Help is coming from other corners, too.
Family members, members of the Muslim community and others have travelled to Christchurch from various places across New Zealand in a bid to help out as volunteers in the aftermath of the mosque attacks.
Javed Dadabhai, who says his cousin Junaid was murdered on Friday, is one of them. He flew down from Auckland, New Zealand's biggest city and home to most of the country's 50,000 Muslims.
"My cousin was a beautiful soul; he was very softly spoken and a very kind-hearted person. He was just gentle," Dadabhai, 30, says.
"He expressed that in every part of his life," he adds.
Now Dadabhai is part of a team helping organise the release of Junaid's and others' bodies and, in time, their burials. He says that could take the volunteers, which are coordinating with authorities, up to a week.
"The families have been so patient with regards to how long this process has taken," Dadabhai says.
"From an Islamic point of view, there was a want to receive the dead immediately and start the grieving process ... but they realise that this is not like any other incident, especially in New Zealand ... so it's a stop-start to the families' grieving process - they want to begin it but they are being paused too," he adds.
"Hopefully it's going to get better though, as the names [of those killed] are starting to get released to the families, you can see they feel they are finally allowed to cry, to release some of their grief."
SOURCE: AL JAZEERA NEWS
https://www.aljazeera.com/news/2019/03/zealand-cabinet-agrees-tougher-gun-laws-principle-pm-190318054656685.html

Media captionJacinda Ardern: "This can only be described as a terrorist attack"
Forty people have been killed and more than 20 wounded in shootings at two mosques in Christchurch, New Zealand.
Australian prime minister Scott Morrison described the gunman, who had Australian citizenship, as an "extremist, right-wing" terrorist.
Four people - three men and one woman - were in custody in connection with the shooting, New Zealand police said.
New Zealand prime minister Jacinda Ardern called it one of New Zealand's darkest days".
What do we know at this point?
New Zealand police commissioner Mike Bush confirmed that "multiple fatalities" were recorded at two locations.
The first report of an attack came from the Al Noor mosque, located in central Christchurch. Witnesses told local media they ran for their lives, and saw people bleeding on the ground outside the building.
A second mosque in the suburb of Linwood was evacuated, but there were few details from that site.
Police also defused "a number of IEDs (explosive devices) attached to vehicles", Mr Bush said.
Authorities advised all mosques in the city to shut down until further notice. Armed police were also seen at Papanui High School in Christchurch, which was cordoned off.
It was not immediately clear how many gunmen there were. The Australian suspect is believed to have published a manifesto outlining his intentions, in which he espoused far right and anti-immigrant ideology.
He also appeared to have livestreamed on Facebook from a head-mounted camera as he shot victims in a mosque. Police called on the public not to share the "extremely distressing" footage online.
Facebook said it had removed the shooter's Facebook and Instagram accounts and was working to remove any copies of the footage.
What happened at the mosques?
The sequence of events remains unclear and has mostly come via eyewitness reports to local media.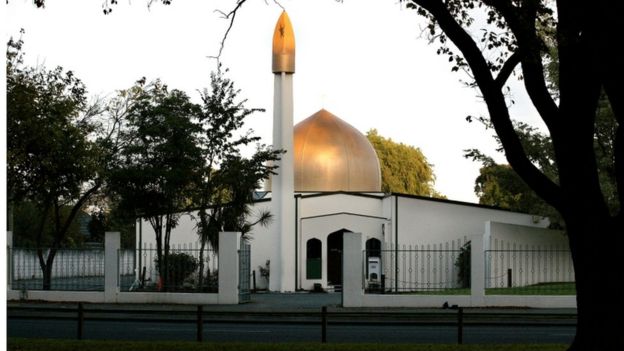 Image copyrightREUTERSImage captionThe Al Noor mosque in Christchurch, New Zealand - location of one of the shootings
One unnamed survivor told TV New Zealand he was at the Al Noor mosque, and saw a gunman shoot a man directly in the chest. The attacker reportedly targeted the men's prayer room in the mosque, then moved to the women's room.
"What I did was basically just waiting and praying, God please, let this guy run out of bullets," the witness said. "He came to this side, he shot this side, he went to another room and went to the ladies' section and shot them. I just heard one of the ladies has died."
A Palestinian man who asked not to be named told the AFP news agency he heard rapid gunfire and saw a man shot in the head.
"I heard three quick shots, then after about 10 seconds it started again - it must have been an automatic, no one could pull a trigger that quick," he said. "Then people started running out. Some were covered in blood."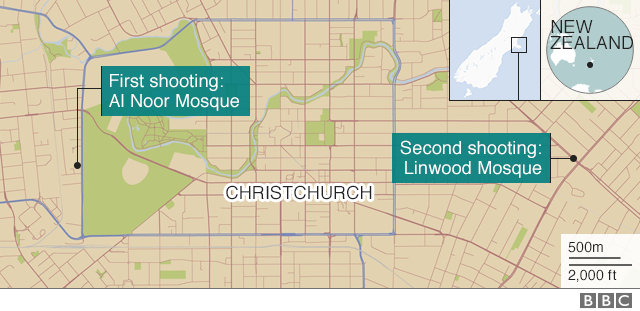 A second mosque in the suburb of Linwood was also evacuated. The police commissioner said "multiple fatalities" were recorded at two locations.
How have authorities responded?
Multiple casualties were brought to Christchurch Hospital where there was a heavy police presence. A spokeswoman said Canterbury District Health Board (CDHB) had activated its mass casualty plan, the New Zealand news site Stuff.co.nz reported.
Police earlier cleared Cathedral Square, where thousands of children had been holding a rally for action on climate change.
Police Commissioner Bush said: "Police are responding with its full capability to manage the situation, but the risk environment remains extremely high. Police recommend that residents across Christchurch remain off the streets and indoors until further notice."
A lockdown on all schools in Christchurch was lifted, and parents told could collect their children.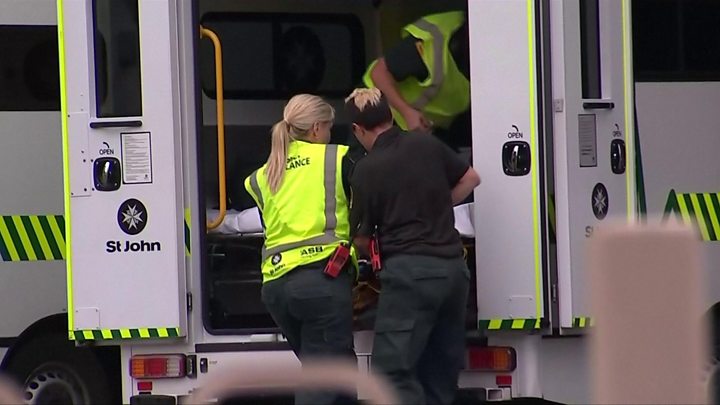 Media captionPeople injured in the shooting have been arriving in ambulances at a hospital in Christchurch
Australia's Prime Minister Scott Morrison tweeted: "I'm horrified by the reports I'm following of the serious shooting in Christchurch, New Zealand. The situation is still unfolding but our thoughts and prayers are with our Kiwi cousins."
Cricket team escape attack
The Bangladesh national cricket team appeared to have narrowly escaped the shooting. A reporter following the team, which was due to play New Zealand in a now-cancelled test match on Saturday, tweeted that the team had "escaped from a mosque near Hagley Park where there were active shooters".
Player Tamim Iqbal tweeted that the "entire team got saved from active shooters".
Bangladesh Cricket Board spokesman Jalal Yunus said most of the team had gone to mosque by bus and were about to go inside when the incident took place.
"They are safe. But they are mentally shocked. We have asked the team to stay confined in the hotel," he told the AFP news agency.
https://www.bbc.com/news/world-asia-47578798